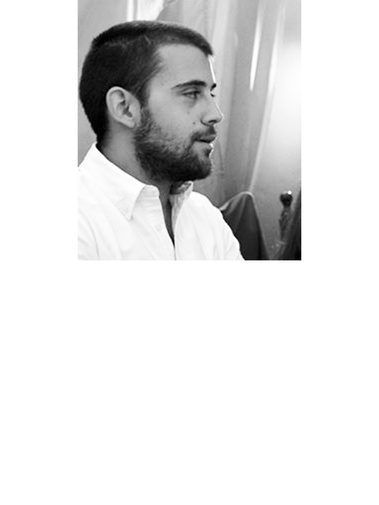 Biography
ARCHITECTURE PROJECT
(architecture, interior, design, product)
2020 finished the first book and photo essay - "Weightless - Tracing Landmarks"
2017 -2020 frequent the PhD in architecture at the University of Évora
2016-2016 participated as tutor in workshop IN SITU 5, with arch. Sérgio Silva and arch. José Castro Caldas
​2015-2016 finished building the Hotel Água d´Alma
​2015 -2015 2nd Place Resort Quitundo . International Competition . Luanda
2015-2015. invited to be guest critic to the 3rd year students of Universidade Autónoma de Lisboa
2010-2015. collaborator at Pedro Campos Costa Arquitectos
2014-2014. worked as photographer for the Portuguese Representation of Architecture Biennale of Veneza
2014-2014. awarded in a national competition promoted by Secil and OA: Prémio Secil Universidades 2013
2013-2013. achieved master degree in architecture. Thesis Airport(+)Montijo
2013-2013. collaborator at Atelier Base
2010-2013. collaborator at Atelier Orgânica Arquitectura
2013-2013. Invited to participate in a group of conferences entitled "Prática vs ensino"
2012-2013. Conversas Com about cities (organization with ArqºEmanuel Diogo and ArqªJoana Craveiro)
2010-2015. colaborator at M.P. Arquitetura e Engenharia
​Follow our work at:
https://minimalissimo.com/house-cr/
http://leibal.com/interiors/house-cr/
http://ait-xia-dialog.de/ait-neuigkeiten/wohnhaus-in-caldas-da-rainha-von-goncalo-duarte-pacheco/
http://divisare.com/authors/2144735371-goncalo-duarte-pacheco
http://afasiaarchzine.com/2016/02/goncalo-duarte-pacheco/
http://afasiaarchzine.com/2016/01/pacheco-mendes-loureiro-almeida/
http://www.beta-architecture.com/resort-quitundo-goncalo-pacheco/
http://afasiaarchzine.com/2017/02/goncalo-duarte-pacheco-2/
http://afasiaarchzine.com/2017/03/campos-costa-2/
http://www.archdaily.com.br/br/876890/intervencao-arquitetonica-propoe-a-reapropriacao-de-um-antigo-presidio-em-portugal